Forest Camp provides bush camping in our forest area. The natural Australian Bush is slightly undulating, providing great camping spots.
There are no defined camping spots, although we have labelled Areas with letters. We will rotate campsites for regeneration purposes. We manage 13 hectares of bushland dedicated to putting up a tent, there will be space away from others if that is desired.
Shower & Toilet Blocks
The main, centrally located toilet block includes 4 male pans, 3 female pans and 4 male showers, 3 female showers. There is 12v lighting for your convenience.
There is a 2 pan toilet block in Area B near the shelter.
We do not provide consumables like cleaning products and toilet paper. Our septics require biodegradable and non anti-bacterial soaps.
Fires
There are fire drums on stands at 4 locations around camp, wood provided. Please return the fire drums and stands to these locations. There are also ash-pits there for you to dump your ash.
There is a Camp fire circle & amphitheatre, wood provided.
If the wind is too strong ( >10km/h ) then a fire is not a good idea. The Ranger's decision on fires is final.
Other
There is no 240v power. There are no powered sites.
Drinking water taps are located throughout.
A storm hut in Area B, is available for emergency situations, or generally by campers near by.
Requirements
Forest campers need to bring all their own gear, including toilet paper.
Campers are encouraged to bring their own pioneering and construction equipment and make use of the natural bush for these activities.
Garbage is to be taken home with you for disposal. We have a Food waste composting program; we encourage you to utilise this service. The compost bin is located behind Warnock Lodge. You will need to provide your own food waste bin, but you can empty it into our compost bin.
Fire drums are to be returned to the location they were taken from and the ash put into the ash pit provided.
Please leave the area you use as clean as you found it. You are expected to return the Camp's equipment that you use and to clean the toilet/shower block before you go.
---
Warnock Lodge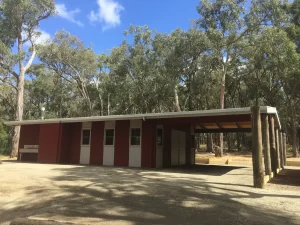 Warnock Lodge has been completely rebuilt in late 2020, and is nothing like the breezy shed it was.
Check out the photos.
Total internal size 6m x 11m. About 4m of that is the kitchen. 6m x 5m external under cover area.
What you see in the photos is what you get plus 8 tables and 40 chairs.
There are no pots/pans/utensils/etc.
Includes 2 LPG fridge/freezer, hot water, 12v lighting, LPG 6 burner commercial stove / oven, NO 240v.
BBQ, BYO 9Kg bottle (POL connector).
There are 240v power points in the building, however they require you to bring a Genie and connect it to the building to power items you may bring. Connection requires a 15A 240v extension lead.
There is no accommodation with this building, it is a resource, you would still camp in tents / camper trailers.
---
Area J Marquee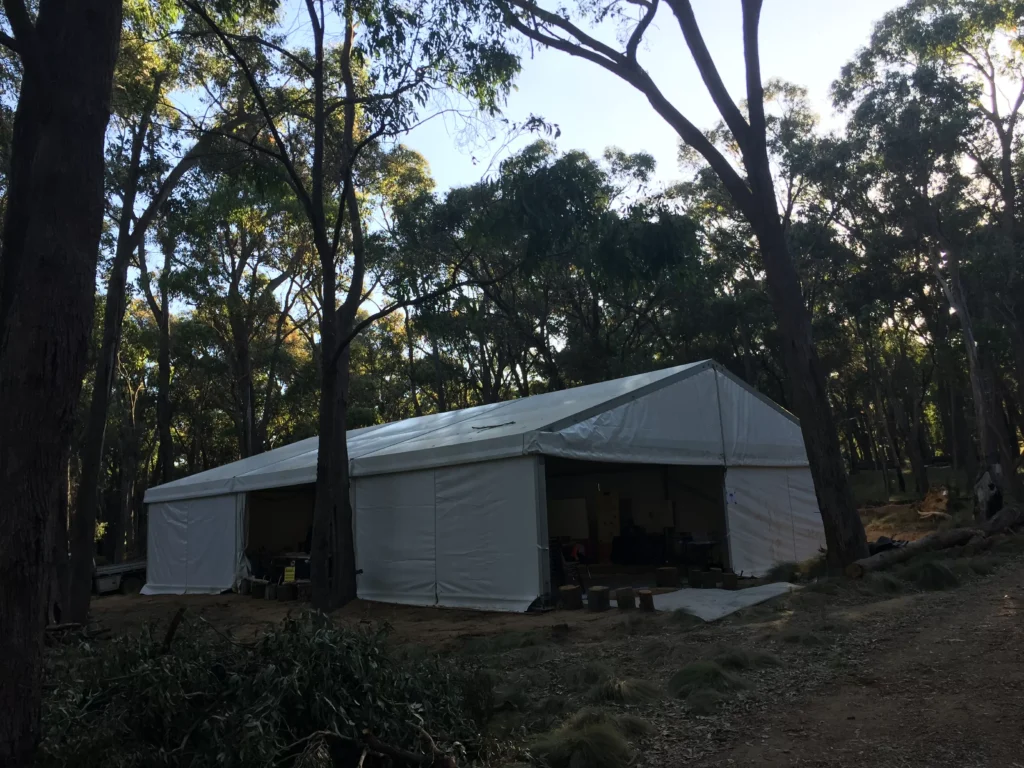 In 2023 we erected a commercial 10m x 15m marquee in Area J, on the corner of Rudolfs Way and Anderson Drv.
Check out the photos
The Marqee is 10m x 15m, has a level dirt floor with tarps.
There is a sink with cold water inside.
125 Stackable chairs.
12 folding tables.
240V LED lights are mounted with extension leads. You will need to provide your own power.
There is no accommodation with this building, it is a resource, you would still camp in tents / camper trailers.
---
Bookings
Make a booking here.