Forest Camp provides bush camping in our forest area. The natural Australian Bush is slightly undulating, providing great camping spots.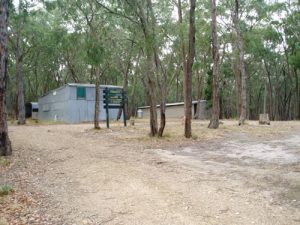 There is a centrally located Toilet Block with hot showers and 12v lights. There is no 240v power. We do not provide consumables like cleaning products and toilet paper.
Warnock Lodge is a storm shelter that is available to anyone as a refuge. It does have a cold water sink and a domestic gas stove, a table and some old couches. The windows are shutters without glass. It is not to be occupied for sole use.
There are fire drums on stands at 4 locations around camp. Please return the fire drums and stands to these locations. There are also ash-pits there for you to dump your ash.
There are no defined camping spots, however we will rotate campsites for regeneration purposes. We manage 13 hectares of bushland dedicated to putting up a tent, there will be space away from others if that is desired.
Please leave the area you use as clean as you found it. You are expected to return the Camp's equipment that you use and to clean the toilet/shower block before you go.
Bookings
Make a booking here.