HQ Camp is an indoor accommodation with Recreation Hall, Dining Room, Commercial Kitchen, small lounge area, 72 bunk beds, external toilets and shower block.
The 72 beds are provided in 3 areas detailed below.
All beds are wooden slat with a 100mm foam mattress. You are expected to bring pillow and sleeping bag or linen and blanket.
In winter the bunkrooms and toilet block are hydronically heated over night to 15 ˚C. The staff quarters are heated by the heater in the lounge/dining room.
Bunkhouse 40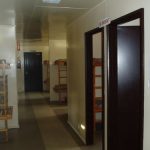 This bunkhouse sleeps 40 persons in 5 rooms. The central room connects to 4 rooms and contains 4 bunks. The 2 larger connected rooms have 16 bunks in alcoves of 4 bunks. The 2 smaller connected rooms, each have 2 bunks. These 2 small rooms are intended for leaders or staff, but can be used by anyone.
Bunkhouse 24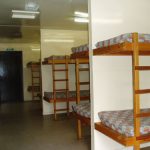 This bunkhouse sleeps 24 persons in 1 room in alcoves of 4 bunks
Staff Quarters

The Staff Quarters sleep 8 and are attached to the end of the Dining Room. There are 4 rooms. The first room is an administration area that doubles as a First Aid Room when required. Off this room are 3 rooms. Two of these rooms have 2 bunk beds and one room has 4 bunk beds. All these rooms are intended for leaders or staff, but can be used by anyone.
Amenities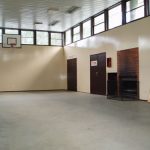 There is a recreation hall that is 14m x 9m and 4.5m high. Contained therein are folding tables and chairs and an open fire place.
The toilet block includes 4 male showers and 3 female showers. There is a disabled toilet with small shower. We do not provide consumables like cleaning products and toilet paper.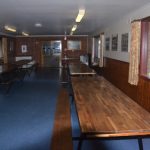 The Dining Room seats everyone on 6 large tables with fixed bench seats; 12 to a table.
At the one end of the Dining Room is a small lounge area with couches, a coffee table and a TV.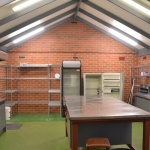 At the other end of the Dining Room is the Kitchen. The Kitchen is large and contains lots of bench space, a commercial dishwasher, a full height freezer and 2 full height fridges. There is also open shelving for your food supplies and a 10 burner stove with 2 wide ovens.
Before departure, you are expected to sweep and mop all floors, hose out the toilet/showers, clean all kitchen items used, and return equipment to their correct storage location, ready for the next group.
Bookings
Make a booking here.