HQ Camp is an indoor accommodation with Recreation Hall, Dining Room, Commercial Kitchen, small lounge area, 72 bunk beds, external toilets and shower block.
The 72 beds are provided across 3 buildings detailed below.
Bookings are counted from ~4pm in 24 hour blocks or part of.
All bookings for this venue are exclusive use.
Bunkhouse 40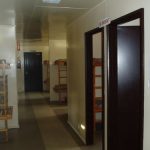 This bunkhouse sleeps 40 persons in 5 rooms. The central room connects to 4 rooms and contains 4 beds. The 2 larger connected rooms have 16 beds in alcoves of 4 beds. The 2 smaller connected rooms, each have 2 beds. These 2 small rooms are intended for leaders or staff, but can be used by anyone.
Bunkhouse 24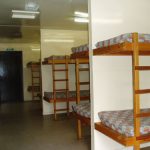 This bunkhouse sleeps 24 persons in 1 room in alcoves of 4 beds.
Staff Quarters
The Staff Quarters sleep 8 and are attached to the end of the Dining Room. There are 4 rooms. The first room is an administration area that doubles as a First Aid Room when required. Off this room are 3 rooms. Two of these rooms have 2 beds and one room has 4 beds. All these rooms are intended for leaders or staff, but can be used by anyone.
Sleeping Accommodation
We can accommodate 72 in bunk beds across 3 areas of accommodation.
24 bed bunk house (1 room)
40 bed bunk house (5 rooms as follows [2x 16 beds, 1x 4 beds, 2x 2 beds leaders])
8 bed staff quarters (3 rooms as follows [2x 2 beds, 1x 4 beds])
All rooms with more than 4 beds have bunks in alcoves of 2 bunks (4 beds).

All beds are bunk beds and are wooden slat with a 100mm foam mattress. You are expected to bring pillow and sleeping bag or linen and blanket.

We do not recommend children under 9 on the top bunk.
Amenities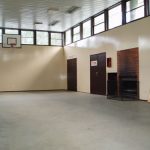 There is a recreation hall that is 14m x 9m and 4.5m high. Contained therein are folding tables and chairs, 3m projector screen and an open fire place, wood provided.
There are indoor activities in the store next to the fireplace. Basketball, Half Soccer, Table Tennis, Tug-o-war ropes.
Please bring your own balls.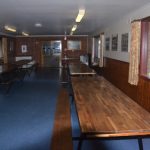 The Dining Room seats everyone on 6 large tables with fixed bench seats; 12 to a table.
At the one end of the Dining Room is a small lounge area with couches, a coffee table and a TV.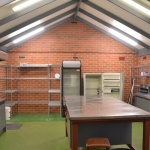 At the other end of the Dining Room is the kitchen. The large kitchen is a fully equipped commercial kitchen with twin wide gas ovens, stove cook top (10 burners), microwave oven, 2 large refrigerators and a freezer, large pots pans and trays, huge preparation and serving bench, crockery and cutlery for 80.
Shower & Toilet Block
The toilet block includes 4 male showers and 3 female showers. There is a disabled toilet with small shower.
We do not provide consumables like cleaning products and toilet paper. Our septics require biodegradable and non anti-bacterial soaps.
Outdoors
Outdoor gas barbecue area with fixed outdoor tables.
Camp fire circle, wood provided.
Sports and activities ground.
Tent camping area for those wanting to pitch tents.
Other
In winter the bunkrooms and toilet block are hydronically heated over night to 15 ˚C. The staff quarters are heated by the heater in the lounge/dining room. Cooling is via open window.
Wheelchair paths and ramps to all camp buildings and to the playground.
WiFi is available on request through the Booking Office or the Ranger. Range is limited to the Staff Quarters, Lounge and Dining room.
We have a Food waste composting program; we encourage you to utilise this service.
Bring Your Own
Sleeping bag, blanket, pillow, personal gear.
Toilet paper, extra large rubbish bin liners, tea towels, biodegradable dish washing liquid and non anti-bacterial soaps.
Art and craft supplies and special activities equipment. These activities are to be done in the recreation hall or outdoors. All paints, papers, glues etc. must be removed after the activity.
Requirements
Campers are responsible for cleaning the camp before leaving, including sweeping and mopping floors, hose out the toilet/showers, clean all kitchen items used, return equipment to their correct storage location, and return the mattresses to their upright position, ready for the next group.
Garbage is to be sorted into 4 categories and left in the bins provided behind the kitchen or in the food waste composting bins. The 4 categories are Compost (white), Glass (purple), Recycling (yellow) and Landfill (red).
Bookings
Make a booking here.