The campsite does NOT provide any programme staff for specialised activities. You will need to provide the necessary equipment for all activities. There are however fixed specialised activities on site.
It is your responsibility to provide and supervise your own activities.
We do provide Risk Management tools (see Documentation page) for you to integrate into your own Risk Management Plan.
ADVENTURE PLAYGROUND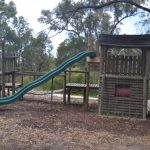 This is a adventure activity for younger kids. It is a typical Pine Pole construction found in many council playgrounds.
AMPHITHEATRE & CAMPFIRE CIRCLE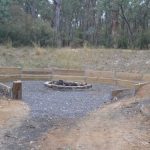 An amphitheatre with a stone campfire circle at its centre. Located along Nunan's Road. Bonfires are not permitted in the campsite.
ARCHERY RANGE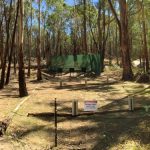 The Archery Range has 2 start lines 15m and 25m (all archers to use the same start line per round). There are 3 targets. You are given 6 sets of everything, and there is enough room to have 2 archers per target. Cost details from the Ranger or Booking Office.
BASKETBALL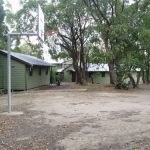 Outside court located at playground area rear of the bunkhouses. An indoor court is located in the recreation hall. "Slam-dunking" is prohibited.
HALF SOCCER
Two half-size soccer goals are located in the storeroom of the Recreation Hall. These goals may be used inside and outside for sports like junior soccer, hand soccer and junior hockey. Please take care in setting up the goals to avoid breaking the nets.
INITIATIVE COURSE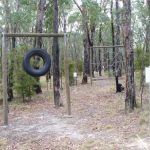 Team-building activities. Located between Hoadley Drive and Nunan's Road. Instruction sheets are available from our website and are also located at each activity.
LOW ROPES COURSE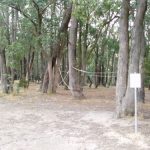 This is a challenge activity for individuals and teams. It consists of a series of steel cables, erected between trees. An instruction for use and safety requirements is available from our website and is also located at the activity. The low ropes course is located in the playground area at the rear of the bunkhouses. Approval for use will need to be obtained from the Ranger and Adult supervision is required for kids.
NATURE TRAILS
Throughout the property and into our "Wildlife Reserve".
ORIENTEERING
Five orienteering courses are available to all campers. Ranging in difficulty for ages 8 years and up.
To loan laminated colour maps and obtain B&W copies, please see the Ranger. The Orienteering maps are now available online.

TABLE TENNIS
Two tables with nets are available in the recreation hall.
VOLLEYBALL
The volleyball court (net included) is located in the playground area at the rear of the bunkhouses.
ZIP LINE
A short Flying Fox designed for kids. It does not need a harness and has a seat like a poma snow lift. Adult supervision is required for kids. One occupant only please.